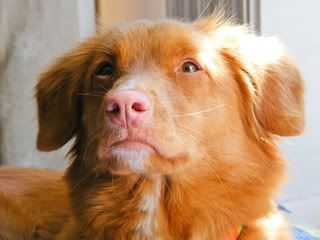 Ellie has company for a week. Orla is a
Nova-Scotian Duck Tolling Retriever
that we are home-boarding for a week, while her owners are on holiday.
She's a great dog to have around. Like Ellie, she is trained to KCGC Silver standard (they both attend the same training school), and thus she really presents no problems either around the house, or out on our walks.
While they may not yet be best of friends, there's no falling out between them. I think they are both happy to just give each other some space and see what develops. :) They are both of a similar age and quite similar in their temperaments and attitudes.
Isn't that vibrant red coat gorgeous though?