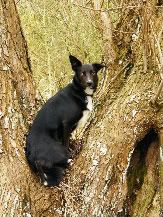 I am pleased to be able to confirm that Ellie will be attending the
Belton International Horse Trials
this year, as part of a canine display team. We will be there on two dates: 24 and 26 of April.
The synchronised routine was practised for the first time last night and includes around thirty or so dogs and their handlers. The actual routine is only three and a half minutes long. However, there are then agility, heelwork-to-music, and trick displays. I heard a whisper that Ellie will also be taking part in the tricks section, but I haven't had that officially confirmed as yet.
Jan will be doing the handling on the day as, believe it or not, I'm quite the wallflower when it comes to publicity. So I shall be team photographer and videographer. That, I can do! :)
Thankfully, she's coming out of the phantom pregnancy. The only time she was a little unlike her usual self was when expected to weave between all the dogs. I'm sure that will calm down over the new few days, as her hormones return to normal.
So, if you happen to be a reader of this blog (and I know there are several who choose not to comment), happen to live in the UK, and are able to get to the Belton Horse Trials, we'd love to finally meet you!